Open menu
Close menu
OVERVIEW
The San Diego Legion Academy, MLR & USA Rugby licensed since 2019, is the cornerstone of our High Performance development pathway and will be the building blocks for our future success as a leading team in Major League Rugby, USA.
The role of the Legion Academy is to identify and develop talented young athletes from age 16 to 23 and engage them in a High Performance development program. Players join the academy through a variety of routes and are assisted in their rugby development to attain their ultimate goal - joining the Legion First team squad. This is underpinned by education from a variety of partners, thus providing the necessary structure for each player to reach their full potential.
We provide our young players with an environment in which they can grow, express themselves both personally and professionally and realize their dream of becoming professional rugby players.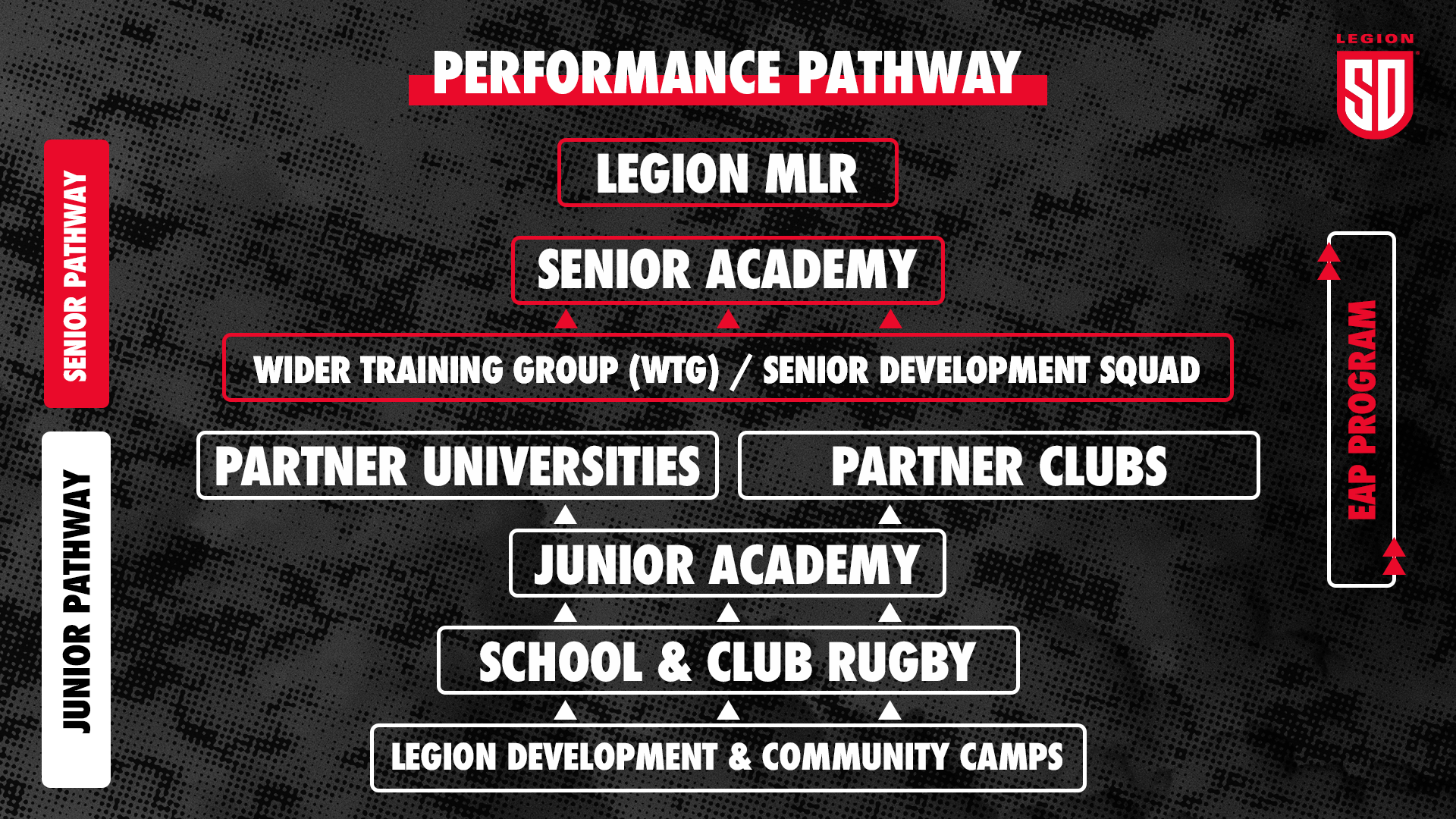 FAQs
HOW DOES A PLAYER ENTER THE ACADEMY PROCESS?
Players primarily come into the Junior Academy via local School & Club Rugby Teams. Most will have been selected through a Legion Talent Assessment morning or have been invited off the back of consistent excellence at their clubs or schools.
WHAT IS THE LEGION RUGBY ACADEMY AND WHAT DOES IT DO?
The Academy vision is to provide a facilitative learning environment that inspires and maximises people development through high quality shared experiences and relationships.
The pathway for each Academy player is routed towards becoming a professional rugby player but we also help, support and signpost players to continue with their rugby journey in other settings such as through University, Club or Overseas partners.
WHAT DOES THE ACADEMY PROCESS LEAD TO?
Ultimately, the Academy exists to provide a Pathway that develops players to MLR and International playing standards and therefore become professional rugby players for the Legion. Many will not make the top level but as an Academy we aim to equip all players with skills and experience that will help them continue within the sport at whichever level that may be.
WHAT HAPPENS IF AN ACADEMY PLAYER DOESN'T MAKE THE GRADE?
Combining rugby with a suitable academic/vocational and career development plan is something we are keen to promote as an Academy.

It is important for players and parents to know that at present there are only 500 full-time players within the American system, many of these from overseas. There are currently some 150 regional Academy players already in the system, and it is incredibly difficult to get a professional contract.ademy.
ARE JUNIOR ACADEMY PLAYERS CONTRACTED?
ARE ACADEMY PLAYERS COVERED BY SAN DIEGO LEGION MEDICAL INSURANCE?
No. All players selected for the Academy must be USA Rugby Cipp'd and/or have their own Medical insurance policy.
WHAT CAN THE ACADEMY OFFER?
A player selected for Academy entry will be directed into a development programme that is geared to ensuring that his capabilities as a rugby player are maximised. The athlete will be supported by Academy staff, specialist coaches, sports scientists and other specialists appointed by the Academy Manager. All areas of physical, technical, tactical and psychological development will be supported as well as game understanding, video analysis and a competitive programme appropriate to the player's personal development.
HOW CAN I QUALIFY FOR SELECTION TO THE LEGION RUGBY ACADEMY?
The first step is attending an Academy assessment/combine morning. Players who attend one of these sessions will be assessed in the following areas:
Technical accuracy and positional skills
Physical qualities
Tactical and game awareness
Mindset and attitude
Those selected to become part of the Academy must demonstrate high potential in at least two or more of the areas outlined above. Academy athletes will be expected to take ownership of driving their own standards, learning and development by inputting into an Individual Development Plan.
WILL I STILL GO TO SCHOOL/COLLEGE?
Yes. It is vital that players pursue their education as well as their development as a rugby player. Rugby players retire early (normally in their 30s) and few will earn sufficient amounts to not have to work beyond that. Injuries too can interrupt a rugby career, so it is important to have an alternative career path to turn to.
The best rugby players are those who can apply themselves across a number of disciplines. Education/vocation targets will be set and must be met by all Academy athletes.
WHO WILL I PLAY FOR?
The competitive programme for each player in the Academy will be personally planned. The Academy Director will work closely with our relevant stakeholder to advise on a programme of matches geared to maximise his individual rugby development. Academy players will only be required to play for teams/squads that provide levels of competitive exposure appropriate for this development.
Players will play no more than 32 games per season that will include:
School Rugby Games
Club Rugby Games
Junior Academy Games
USA All American Games
WILL I AUTOMATICALLY BECOME A PROFESSIONAL RUGBY PLAYER AND PLAY FOR THE LEGION?
No. There are no guarantees. Whilst the Academy will give every assistance to helping players, progress to a full-time contract and selection for the Legion or USA Eagles will be down to the speed of development and personal drive and ambition.
DO I HAVE TO PAY TO BE IN THE ACACDEMY?
No. The Legion Academy is not a pay to play model. There may be costs from time to time to off-set travel or kit but this will be it. San Diego Legion provide all Coaching & High Performance support free of charge. It is our duty to develop legion players of the future.