SD LEGION SINGLE GAME TICKETS ARE NOW ON SALE FOR HOME OPENER!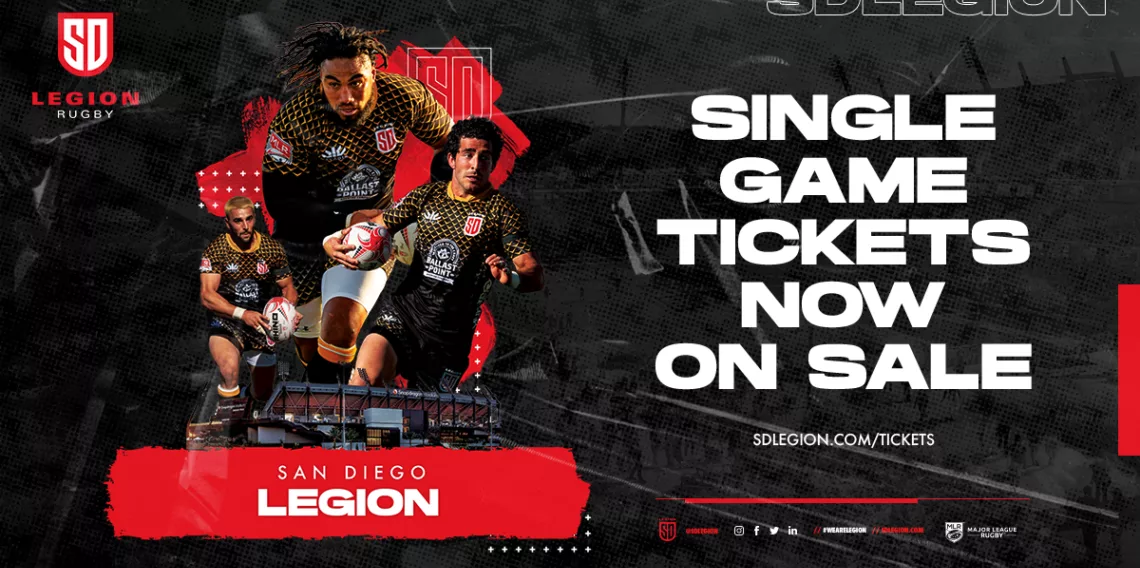 SAN DIEGO LEGION SINGLE GAME TICKETS ARE NOW ON SALE
Jan 2nd, 2023, San Diego, CA – Single game tickets for the San Diego Legion are now on sale to the public at www.sdlegion.com. The Legion is excited to welcome new and returning fans to the groundbreaking Snapdragon Stadium and hopes to break the Major League Rugby attendance record at their home opener on February 18, 2023. Entering its sixth season, the Major League Rugby regular season will include eighteen weeks of action, excitement, and pure sportsmanship.

Professional rugby combines multiple elements of mainstream sports—the big kicks of soccer, the quick passes of basketball, and the hard hits of football (sans pads) in 80 minutes of nonstop action. The sport is also recognized for its inclusivity. Athletes from all walks can find a new home in the game, and respect remains at the sport's core. This year's Legion home games will be a true experience, with tailgating, music, and youth clinics run by the Legion's professional players. San Diegans can come out and enjoy a friendly, exciting rugby atmosphere at the best rugby stadium in the country.

"San Diego, we are so excited to have you join us for our inaugural game at Snapdragon Stadium. Come out and support Legion rugby and be a part of history as we set the Major League Rugby record for the most attended game!" says Ryan Patterson, Team Owner.

"We are very excited to be able to now go live with our single-game tickets! Our home opener is coming up on February 18th. We can't wait for San Diego to come out and support the Legion in our quest to break the Major League Rugby attendance record in the best rugby stadium in the country—Snapdragon Stadium," says Darren Gardner, Team Owner.

"It's now time for you to get your single-game tickets. Please don't wait to be a Legionnaire! Get it done now and get along to the most exciting game on the planet at the best stadium in the States," says Danny Lee, Head Coach, San Diego Legion
ABOUT THE SAN DIEGO LEGION Established in 2017, San Diego Legion is part of Major League Rugby (MLR). The highest form of professional rugby in North America, MLR comprises 12 professional teams, featuring 11 from the United States and one in Canada. San Diego Legion is a founding team of MLR and plays its home matches in San Diego, CA. at Snapdragon Stadium. San Diego Legion Rugby – our professional major league rugby team. sdlegion.com

Our Mission: San Diego Legion strives to make the sport of rugby as beloved here as it is globally and to excite the local community about rugby's wonderful diverse culture and positive influence.


ABOUT MAJOR LEAGUE RUGBY Major League Rugby is a professional sports league. Entering its sixth season, it represents the highest level of rugby competition in North America. The League evolved from seven teams in 2018 to 12 teams in 2023, featuring 11 from the United States and one from Canada. Matches are televised on Fox Sports, among other national and local market platforms. Select matches are available to stream live in North America on The Rugby Network, and all matches are available on The Rugby Network for international fans. MLR prides itself in fostering intense and high-stakes competition, while bringing together a passionate community built on the values of Respect, Inclusivity, and Tradition. For more information about MLR, http://www.MajorLeague.Rugby