SAN DIEGO LEGION PARTNER WITH ZICO HYDRATION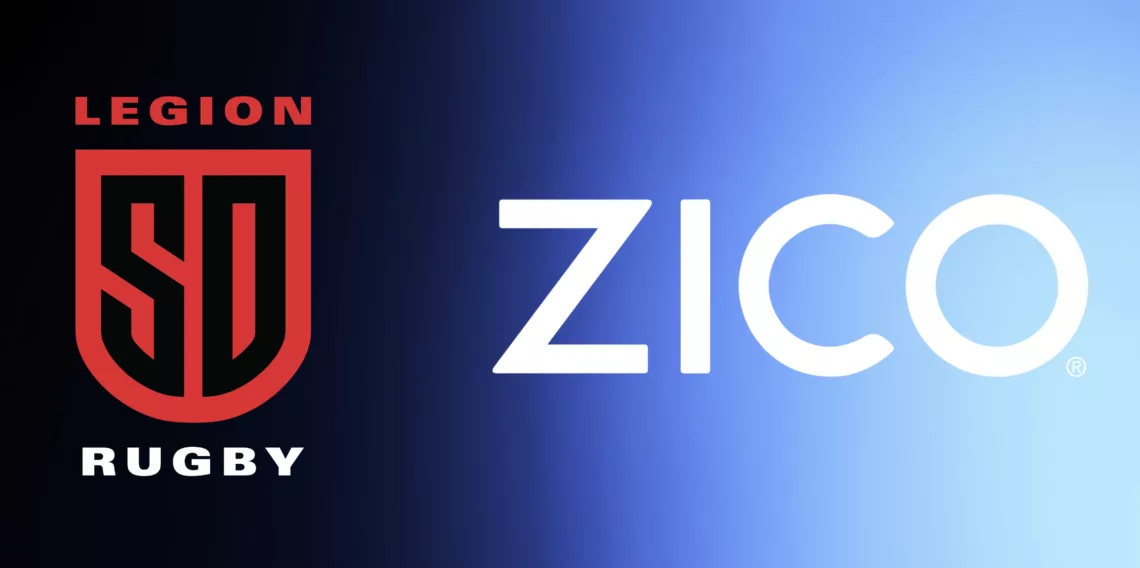 CALIFORNIA BASED 'ZICO' BECOMES OFFICIAL HYDRATION PARTNER OF LEGION RUGBY
The San Diego Legion has signed an exclusive partnership with Southern California based ZICO to become the team's Official Hydration Partner. ZICO delivers delicious coconut water and coconut water products to hydrate an increasingly dehydrated population using their foolproof three-step process. As an official partner, ZICO will work closely with the Legion's athletes and training staff to help the team meet its hydration needs.
"We are absolutely thrilled to be the exclusive hydration partner for the San Diego Legion," said Juliet Blake, ZICO's SVP, Marketing. "Our partnership embodies the shared values of determination, passion, and teamwork that drive both of our organizations. Together, we encourage fans and athletes alike to 'grab life by the coconuts' and seize every opportunity with enthusiasm and confidence. As the Legion charges into the new season, ZICO is proud to keep them refreshed and energized, proving that the power of natural coconut hydration knows no bounds."
"This is a tremendous partnership opportunity for the Legion to align with ZICO," said San Diego Legion Co-Owner Ryan Patterson. "Hydration plays such an important role in athletes maintaining peak performance and ZICO's Coconut Water provides just the nutrients our team needs to excel on the field and in the weight room."
ZICO makes three primary products: ZICO Natural, ZICO Chocolate, and newly launched ZICO HYDRATE. ZICO Natural is made from delicious, premium Nam Hom coconuts from Thailand, expertly blended together with coconuts from other parts of Asia. Its products deliver a true one-ingredient, super hydrating, optimally sweet beverage with no added sugar. ZICO HYDRATE, made with 30% coconut water with no coconut water taste, comes in three delicious fruit flavors. It is loaded with electrolytes and made for rapid hydration. And ZICO Chocolate tastes like chocolate milk but without the milk.

More information on the San Diego Legion can be found at www.sdlegion.com and for more information on ZICO and to stay up to date on their latest product releases, please visit https://zico.com/.


ABOUT ZICO:
Founded in 2004 by Mark Rampolla, ZICO (pronounced Zee-co) is the maker of premium coconut water and coconut water products. With five naturally occuring electrolytes and more potassium than a banana, ZICO provides naturally refreshing ways to hydrate, replenish and renew with ZICO Natural, ZICO Chocolate and ZICO HYDRATE. You used to have to shinny up a tree and machete-open a coconut to experience this miracle. Not anymore. We climbed the tree for you. For more information, please visit www.ZICO.com or follow ZICO on Instagram @zicococonut.

ABOUT SAN DIEGO LEGION AND MAJOR LEAGUE RUGBY
The San Diego Legion competes in Major League Rugby, a professional sports league that represents the highest level of rugby competition in North America. The Legion strives to make the sport of rugby as beloved here as it is globally and to excite the local community about rugby's wonderful diverse culture and positive influence. Major League Rugby has grown from seven teams during its inaugural season in 2018 to 12 teams in 2023, with 11 teams based in the United States and one in Canada. MLR matches are televised nationally on Fox Sports and locally in most markets. Select matches are streamed live in North America on The Rugby Network and all matches are available to international fans on The Rugby Network. MLR prides itself in fostering intense and high-stakes competition, while bringing together a passionate community built on the values of Respect, Inclusivity, and Tradition.


For the latest information on the San Diego Legion, visit www.sdlegion.com or follow the Legion on Twitter and Instagram at @SDLegion, or on Facebook at @SanDiegoLegion using the hashtag #WeAreLegion.