PLAYER ANNOUNCEMENTS WITH TOMAS AOAKE, FRED APULU, AND FILIMONI WAQAINABETE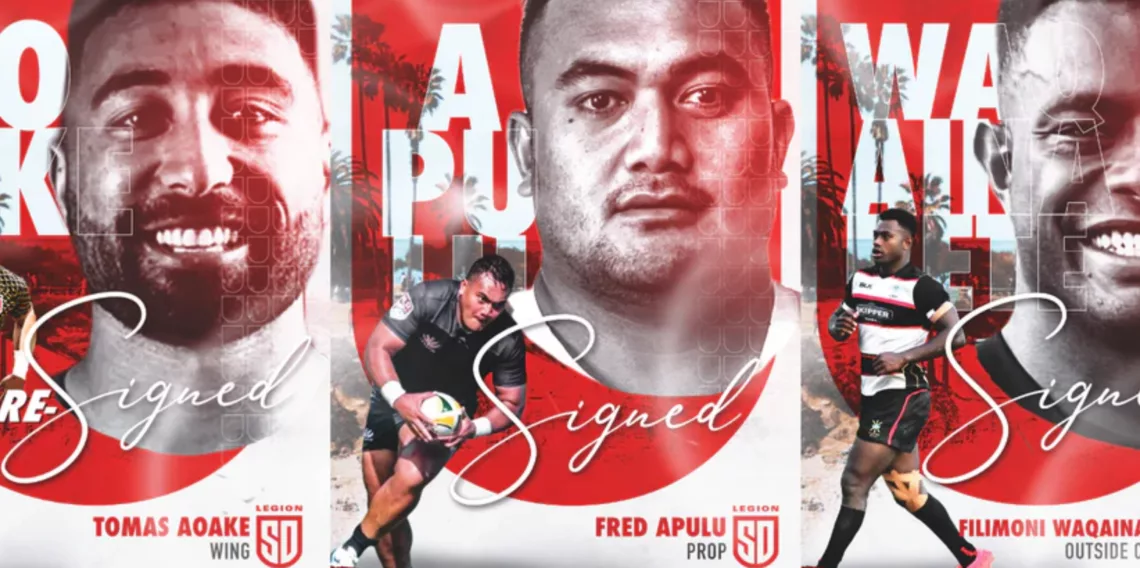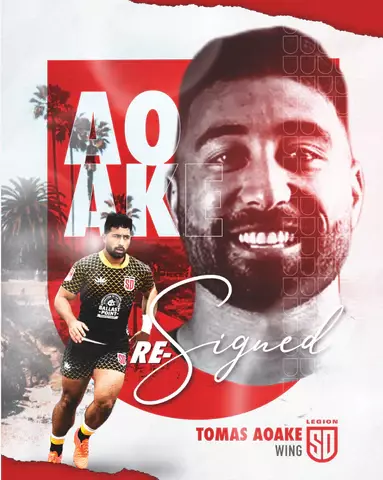 Welcome back Tomas!
Tomas is no stranger to San Diego as he was a regular starter for us last season. A former rugby league player for the NZ Warriors, Tomas crossed over to rugby union in 2017, playing in the National Provincial Championship for 2 seasons with the Tasman Makos, before moving to North Harbour for 3 seasons. Tomas has just finished his season with Auckland and we look forward to him returning to San Diego. "After an outstanding first season in the MLR with Legion, we welcome Tomas back. He's had an off season honing his skills in the NPC in NZ with Auckland and we look forward to him lighting up the 2023 season" from Head Coach Danny Lee. "Grateful as always to be able to get another opportunity with Legion. Only coming in halfway through last season I'm looking forward to getting over early and getting straight into preseason and into the season at our new stadium" from Tomas.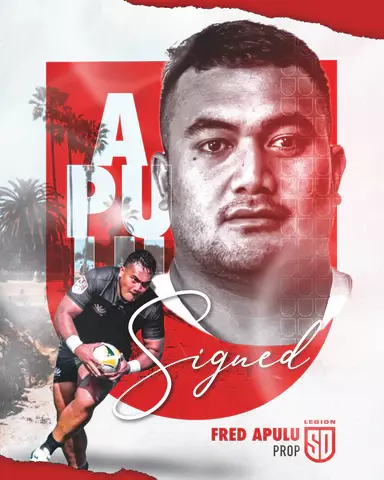 We would like to welcome Fred to San Diego! He is no stranger to the area, though, as he has just finished a season with the LA Giltinis. Fred began his rugby career in Samoa and played for his National side in 2016 in the U20's Junior World Championship. He then moved to Hawaii and played for Marist Hawaii. Fred was recognized by the USA and was selected to attend the USA High-Performance Pathway Camp in Colorado. It was from his performance at the camp that he caught the eye of the Giltinis. "The big man has come South for the 2023 MLR season, and we're stoked to have Fred on board with us. His development has come on in leaps and bounds, and we look forward to him making a name for himself this season," from Head Coach Danny Lee. "I'm super excited to join the Legion family and ready to get to work. I look forward to an amazing season playing alongside some of rugby's great legends and under the guidance of skilled coaches and staff." From Fred.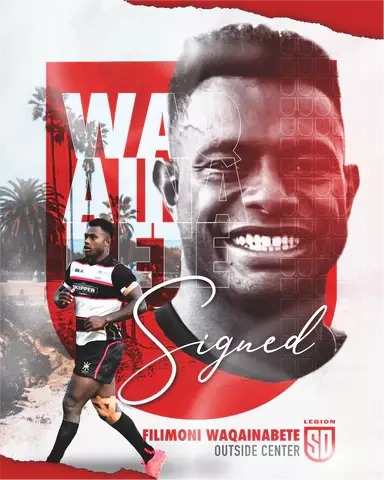 We want to welcome Filimoni to the SD Legion family. Filimoni, originally from Fiji, has played professional rugby for Canterbury, NZ, in the NPC (National Provincial Championship) and then signed on with Panasonic Wild Knights (in Japan). We look forward to him breaking tackles, and scoring tries this season."It's great to have someone like Fili join Legion. He's big and explosive, which is exactly what we were after, and I'm looking forward to not only working with Fili but seeing him tear it apart in the MLR," from Head Coach Danny Lee."Grateful for the opportunity to head over and play for the Legion in 2023. I've only watched the MLR from afar, and I've been impressed with the level of rugby being played; excited to call San Diego home for the next few seasons. I can't wait to get there. Lesgoooooo"" from Filimoni.
#WEARELEGION #LEGIONLOUD