PLAYER ANNOUNCEMENTS WITH RYAN MATYAS, SAMA MALOLO, AND TUPOU MA'A AFUNGIA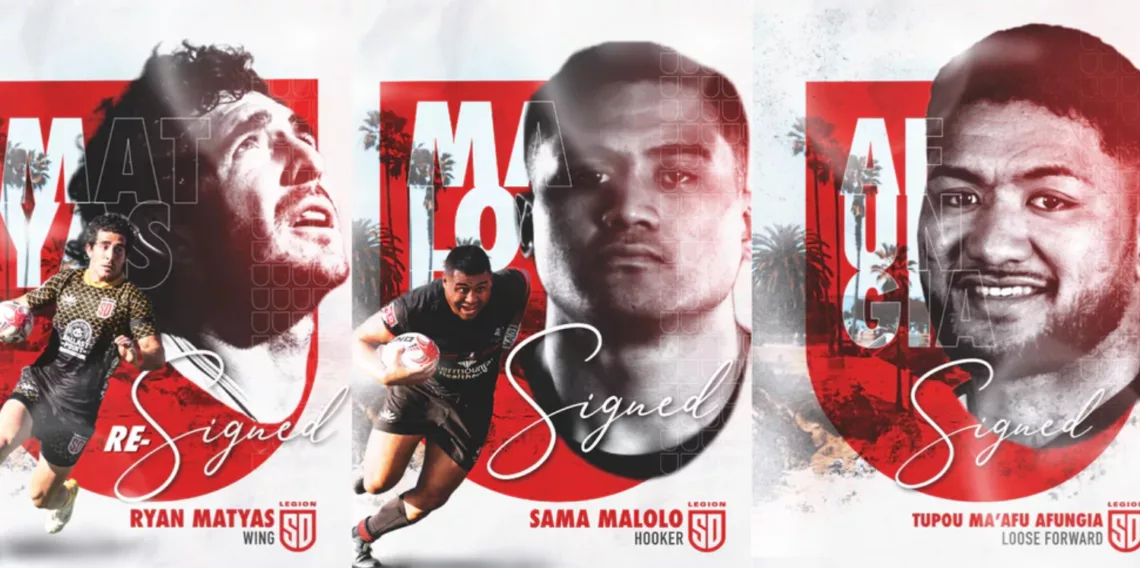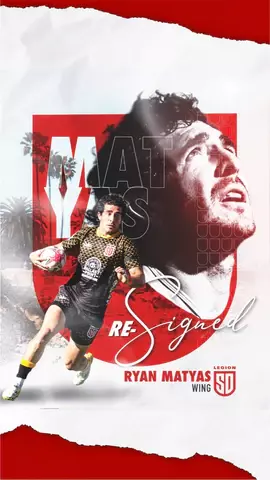 We are excited to announce Ryan will be returning for his 6th season with SD Legion. Ryan was awarded the team's Legionnaire Award for 2022, which symbolizes passion and integrity, with strengths in character and the player who embraces the core values of being a part of SD Legion. Although Ryan has played most of his rugby in the US, he has also played in Wales (UK) and North Harbour (NZ). Being a US Eagle for many seasons, it was "the icing on the cake" when he scored a try against the NZ All Blacks in 2021."It's great to have Ryan back for the 2023 season. Ryan bleeds Legion red and black, which resonates with the squad. He is an outstanding rugby player and a quality human being that will lead from the front on and off the field," from Head Coach Danny Lee."Legion is my home, and playing for the city of San Diego is something I do not take lightly," from Ryan Matyas.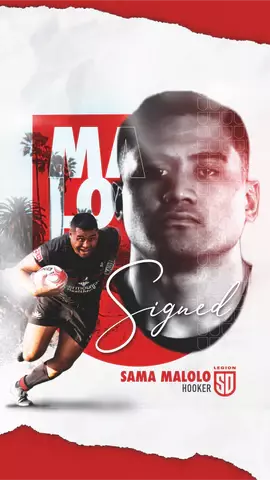 Welcome to Sama who will be joining our "engine room" this season, Sama is a player who has experienced many levels of rugby. Playing the majority of his rugby in Australia, he represented Southern Districts for 4 seasons in the NSW Shute Shield and also Melbourne Rebels in Super Rugby. Sama gained international honors when he represented Australia in 2018 at the Junior World Championship. Having spent a season at Utah, he then returned to Australia to play for NSW Waratahs and through our partnership with the NSW Waratahs we secured Sama for the 2023 season.

"Sama is new to SD Legion and we are super excited to have him onboard. His rugby ability is outstanding in all aspects of the game but his raw physicality is what we are all looking forward to, going into the 2023 season" from Head Coach Danny Lee.

'I'm really excited to get to work in San Diego. From what I've heard it's a beautiful city. More importantly I genuinely think the Legion will have the strategies and the players to win the competition in 2023 and I can't wait to be a part of that", says Sama Malolo.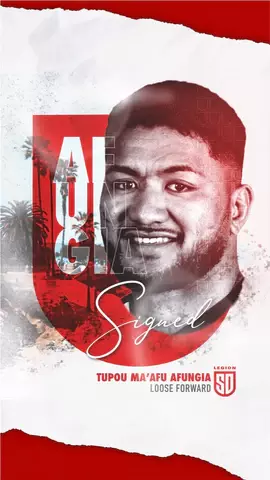 Welcome to the Legion family, Tupou! Tupou is a destructive loose forward who has played in Tonga and NZ. He gained international honors when he represented Tonga at the U16s level and for two years at the U20s level.He finished a very successful season in the NPC (National Provincial Championship) in NZ, playing for the Hawkes Bay Magpies. In 2022 Tupou was awarded the Graeme Lowe award, which is judged on the criteria of commitment, loyalty, work ethic, and promise.
"Tupou is a newbie to the MLR and SD Legion. After plying his trade in the NPC in NZ, we look forward to him stamping his mark on the 2023 MLR season. His trademark is his physicality, and we expect this on both sides of the ball - Attack & Defense. One to watch!" from Head Coach Danny Lee.
"I'm pretty stoked to be part of the San Diego Legion Family. This is like a Starting Point for me, and I can't wait to learn from the big tokos on the Team. I'm excited to play and win games with the San Diego family. Beyond Grateful 💙" From Tupou Maafu-Afungia