PLAYER ANNOUNCEMENTS WITH MATIAS FREYRE, TEVITA TAMEILAU, AND ALEX HORAN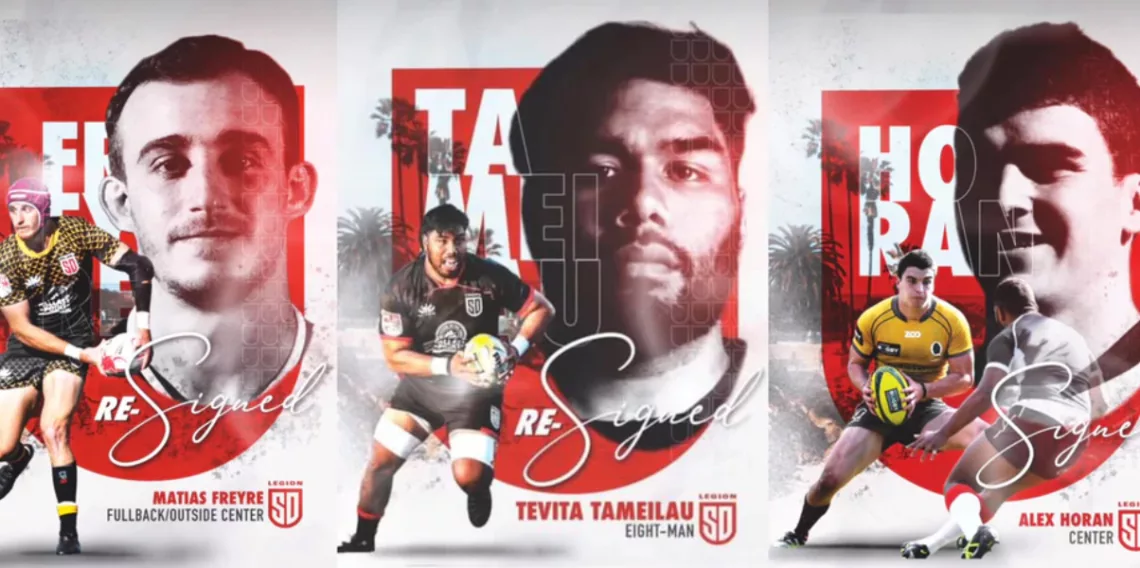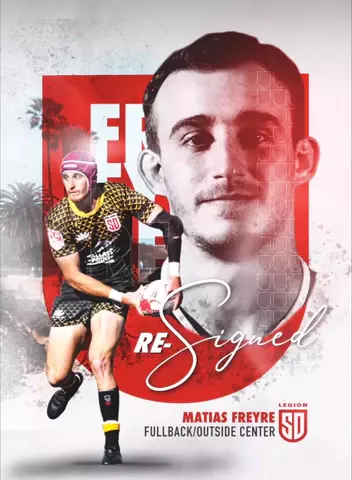 We are happy to announce that our 2022 Newcomer of the Year, Matias, is returning for the 2023 season. Matias grew up in Buenos Aires and played rugby for Club Newman from 2015 - 2019. He represented Buenos Aires at U18 and U21 levels. Matias gained international honors when he was selected for the Argentinian Pumas to play in the HSBC World Sevens Series, making his debut at the Singapore Sevens in 2018. Before moving to sunny San Diego to play for SD Legion, Matias had two seasons with the Houston Sabercats.

"After an outstanding first season with Legion, we welcome back Matias--an incredible rugby player who possesses speed, skill, courage, and nous. We expect Matias to go to another level and really show the MLR his rugby ability," says Head Coach Danny Lee.

"I am very excited and grateful to be back with Legion. New chapter, another opportunity, and same energy. Can't wait to reunite with the team and play in our new stadium in front of our fans. Legion!" says Matias.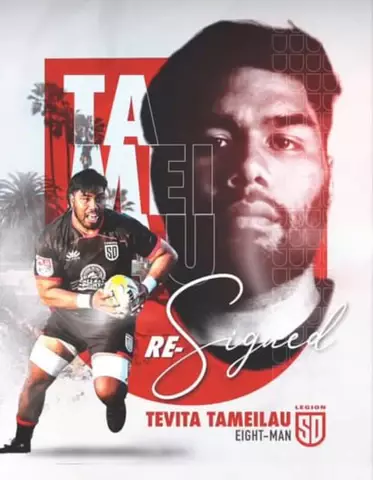 We have great pleasure in welcoming another fan favorite--Tevita Tameilau, back for his fourth season with SD Legion. Tevita previously spent a few seasons playing in the UK for Newcastle (England), Narbonne (France), and Glasgow Warriors (Scotland), but the native Californian ultimately loves playing in sunny San Diego.
Tevita was recognized as SD Legion's "most meters gained" player for 2022.

"The big man is back, and he's going to be better than ever. Tevita has been the backbone to Legion for a number of years, and we expect this again for the 2023 season. His ability to dent the line is second to none in the competition, and we look forward to him running over more opposition players every week, all season," says Head Coach Danny Lee.


"I am grateful to be returning to the Legion family. It's become home. Looking forward and excited to getting it done this year with the boys!" says Tevita Tameilau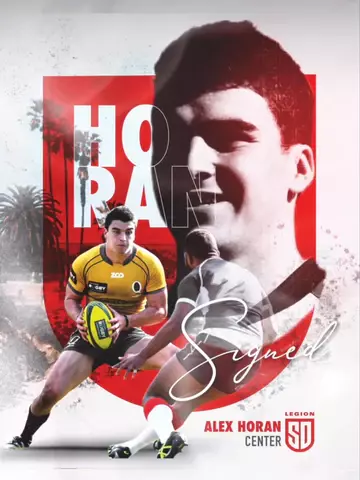 We would like to welcome Alex Horan to the SD Legion Family.Alex comes to us from Queensland, Australia, where he played the majority of his rugby. He has played for Brisbane City and the Canberra Vikings. Alex's most notable accomplishment is his selection in the Sunwolves (Japanese) Super Rugby team. Since returning from Japan, Alex has been playing for the University of Queensland (UQ) rugby team.
"It's great to have a quality player like Alex join the Legion. His reputation proceeds him with his experience and ability in playing a number of positions. We look forward to him running out in the red and black and taking the MLR by storm," says Head Coach Danny Lee.
"I can't wait to get involved and join San Diego Legion for the next couple of years and hopefully bring some silverware back to the city. I'm looking forward to playing at the new stadium in front of the SDL fans and experiencing what the city has to offer. Watching the MLR closely over the last couple years, San Diego is building to become a very strong organization with a great culture," says Alex Horan.