LEGION WIN IN DALLAS! REMAIN #1 IN MLR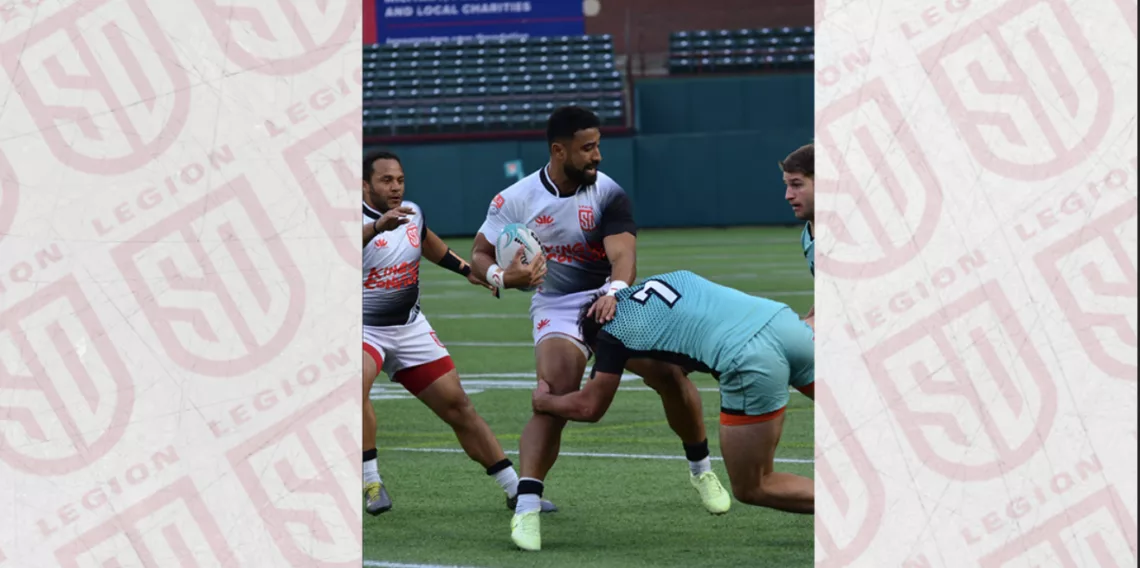 The Legion scored SEVEN tries on Saturday, picking up another bonus point and earning 5 points in the standings. The game was very exciting, especially in the final minutes but the Legion were victorious in the end. The game also featured many new faces in the starting lineup.
April 10, 2023 | Dallas, Texas


San Diego got things going first with an Isaac Ross try. The conversion was no good and the Legion got out to an early 5-0 lead. Dallas would respond just a few minutes later with a high kick that was caught in the air. The Jackals also missed their conversion and the game was tied at five at the first hydration break.
TMO review wiped away a would-be Jackal try following the hydration break. On the ensuing Legion possession, Tomas Aoake would dot down a try to give the Legion a 12-5 advantage. Dallas would respond though and tie the game at 12 with just ten to play in the first half.
Just a few minutes later, hooker Sean McNulty would score his first try of the season and a Luke Burton conversion gave the Legion a 19-12 lead. Dallas would again respond though and tie the game for the third time of the night at 19 going into the half.
Coming out of the break, center Filimoni Waqainabete, in his Legion debut showed some Fijian flair with a spectacular offload to Tiaan Loots for a try.
With the score 26-19, the Legion would again score from a Will Hooley offload to Tevita Tameilau who scored the try and extended the lead to 33-19. Tameilau, one of the hardest runners in the competition, broke multiple tackles on his way to the try-zone.
With 20 minutes to go, the Legion looked to be comfortably ahead with a 40-19 lead. Dallas marched back though, scoring three unanswered tries and cutting the lead to 40-38 with just two minutes to go.
Dallas would fumble the ensuing kickoff, and Sama Malolo would take it then offload to Tiaan Loots for the game clinching try, increasing the Dallas deficit to 9 points and securing the win.
Man of the match honors went to center Tiaan Loots.