LEGION WIN 9th STRAIGHT, BEAT NOLA GOLD 26-12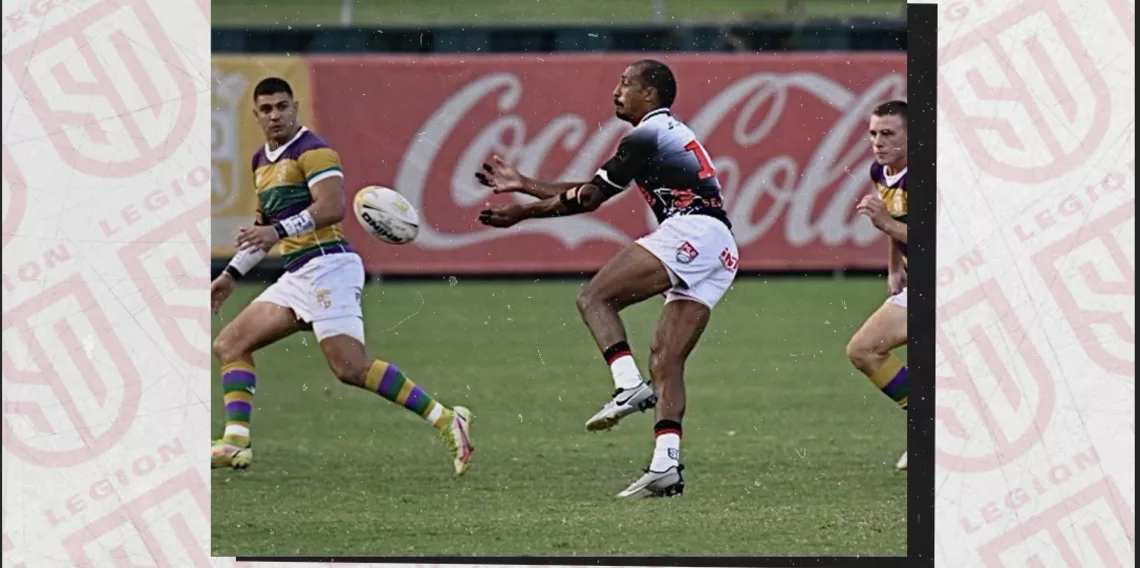 In a game that was closely contested for nearly the whole match, the Legion were able to pull away in the final minutes and get the bonus point.
New Orleans, Louisiana | May 14, 2023
Throughout the week leading up to the game, the Legion faced much adversity. Several key players and staff members were out sick for the match as well as the training sessions leading up to it. This forced the Legion to rely heavily on their depth and adjust to the missing pieces in the lineup.
The game was scoreless for the first 20 minutes of the match. Finally, at the 24th minute, Finn Kearns was able to find a firing Tiaan Loots who took the ball in for a try and put the Legion on the board first, 7-0. Both Loots and Kearns would be named to the MLR 'First XV' for their performances in Round 13.
Less than 10 minutes later, Nola would respond with a try of their own to tie the game at seven a piece. At the 37th minute, Matias Freyre found Mike Smith on an offload from about 40 meters out and Smith did the rest, scoring a try to regain the lead. This was the second straight game with a try for Smith, the 2022 Legion Player of the Year. The Legion took a 14-7 lead going into the sheds.
At the top of the second half, Nola Gold would score their second try of the game. A missed conversion kick brought the game to 14-12 in favor of San Diego. The Legion responded with a Dan Pryor try from an Isaac Ross offload to make it 19-12. The Legion missed the conversion kick, keeping it at a one possession deficit for Nola.
With just three minutes to play, Nola had hope looking to tie the game with a try and conversion. However, the Legion took all hope away with a sensational 4th try to secure the win and bonus point. Isaac Ross would steal the ball off an errand pass and get it into the hands of the dynamic Mikey Te'o. Mikey sliced the defense and made an absolutely ridiculous offload to Thomas Morani for the game icing try. The score not only gave the Legion a bonus point, but took away a bonus point from Nola by extending the lead to more than seven.
Watch the try here: https://www.instagram.com/reel...


Mike Smith was given Man of the Match Honors