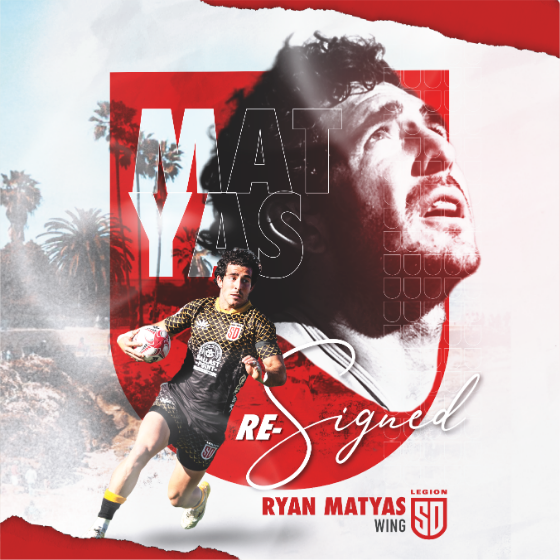 BACK/WING
Drawn to seeing the "transition and growth of players", Ryan has also devoted his considerable rugby experience to the development of others through coaching. During his time in New Zealand He was hired by New Zealand Rugby Union to serve as a Youth Development Officer in North Harbor region and currently coaches within the San Diego Mustangs Youth Program. After call up to the USA sevens program, Ryan's talents were eventually sought for the 15s squad and he became Eagle no. 486 in 2016 during the Americas Rugby Championship against Chile. Fresh off the November Internationals tour with the Eagles, Matyas is settling into his work as a veteran center/winger with the San Diego Legion where he'll contribute his talent and rugby IQ to improving on their successful inaugural.
We are excited to announce Ryan will be returning for his 6th season with SD Legion. Ryan was awarded the team's Legionnaire Award for 2022 which symbolizes passion and integrity, with strengths in character and the player who embraces the core values of being a part of SD Legion.
Although Ryan has played most of his rugby in the US he has also played in Wales (UK) and North Harbour (NZ). Being a US Eagle for many seasons it was "the icing on the cake" when he scored a try against the NZ All Blacks in 2021.
"It's great to have Ryan back for the 2023 season. Ryan bleeds Legion red and black and this resonates within the whole squad. Not only is he an outstanding rugby player but a quality human being that will lead from the front on and off the field" from Head Coach Danny Lee
"Legion is my home, and playing for the city of San Diego is something that I do not take lightly" From Ryan