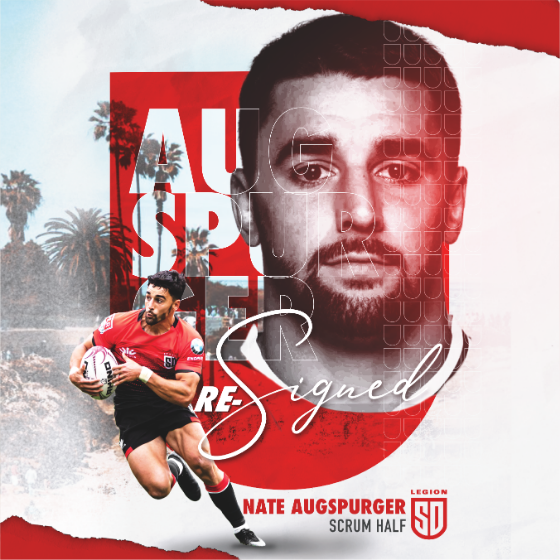 BACK/SCRUM-HALF/WING
Augspurger got the chance to wear the red, white, and blue jersey in 2014 on the Sevens World Series and honed his footy skills under the guidance of Men's Sevens coach Mike Friday. The 28-year old joined the USA Eagles XVs squad in his first international match against Italy in 2016. Since then, he has established himself as a contender for the no. 9 position in the taxing environment of the Americas Rugby Championship where he helped propel his squad to a 5-0 performance and a second ARC title. Nate's charismatic attitude and commitment to his rugby community have already won hearts in the American rugby scene and will undoubtedly make him a fixture in the SD Legion and West Coast rugby.
We are very excited to announce that Nate will be returning for the 2023 season. Nate is a fan favourite and so he should be as he heads into his 6th season with us.
Nate is not only a USA 7s representative but also an established Eagle in the 15 aside game. We look forward to Nate's enthusiasm and leadership that he will bring to the 2023 season.
"It's fantastic to have Nate back at SD Legion wearing the red and black for the 2023 season. He's a huge part of this team on and off the field bringing a doggedness approach to every aspect of the game" from Head Coach Danny Lee
Nate Quote "I'm looking forward to the season ahead in 2023. It's really exciting in SD as we have a new stadium with a familiar staff and player group. I am thrilled to have another opportunity to put on a legion jersey and perform in front of our amazing Legion fans!" from Nate