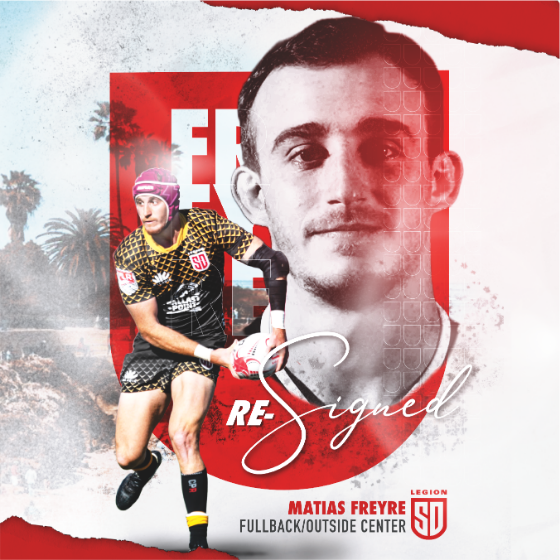 BACK/FULLBACK
We are happy to announce that our 2022 Newcomer of the Year, Matias Freyre, is returning for the 2023 season.
Matias grew up in Buenos Aires and played rugby for Club Newman from 2015 - 2019. He represented Buenos Aires at U18 and U21 levels. Matias gained international honors when he was selected for the Argentinian Pumas to play in the HSBC World Sevens Series, making his debut at the Singapore Sevens in 2018.
Before moving to sunny San Diego to play for SD Legion, Matias had 2 seasons with the Houston Sabercats.
"After an outstanding 1st season with Legion we welcome back Matias. An incredible rugby player who possesses speed, skill, courage and nous. We expect Matias to go to another level and really show the MLR his rugby ability." from Head Coach Danny Lee.
"I am very exited and grateful to be back with Legion. New chapter, another opportunity and same energy. Can't wait to reunite with the team and play in our new stadium in front of our fans. Legion!!!" From Matias